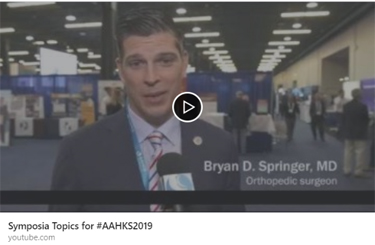 Selections have been made for the 2019 AAHKS Annual Meeting General Session. From the record 1,723 abstract and 36 symposium submissions, the Program Committee has selected 59 podium presentations, 350 posters and eight symposia. The symposium topics for the 2019 AAHKS Annual Meeting will provide a fresh look at topics such as patient psychology and also dive deeper into current topics such as the hip-spine relationship and periprosthetic joint infection. Here's the lineup of topics:
Multimodal Anesthesia and Analgesia
The Psychology of Total Joint Arthroplasty
Impact of Removal of TKA from CMS IPO List
Simplifying the Hip-Spine Relationship for THA
Who, When and How to Revise ALTR in THA
A Practical Case-based Approach to PJI
Video Demos to Save You During Revision TKAs
Practice Norms Poll with Dr. Lieberman
Visit www.AAHKS.org/Meeting for all the latest details and to register and reserve your hotel room.